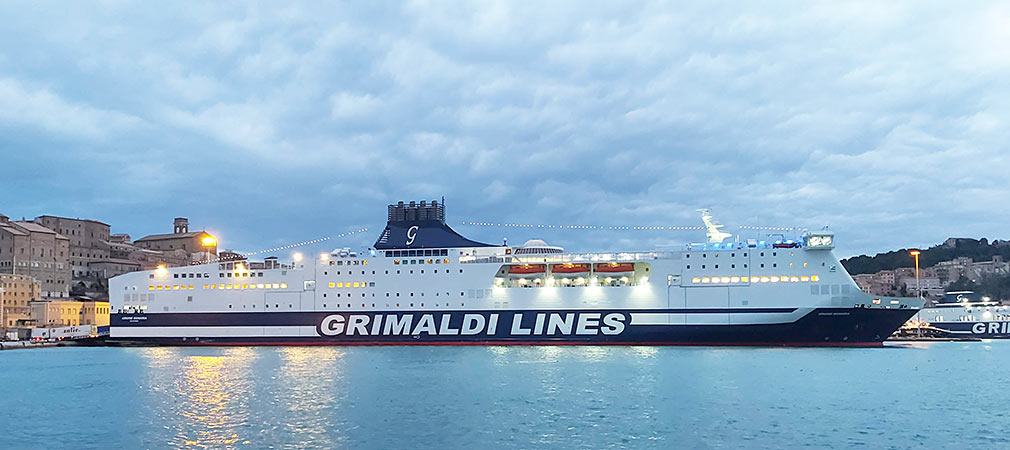 Grimaldi Lines Ancona
Booking center and port office
Minoan Agencies Srl of Frittelli Maritime Spa Group, operates as a sales agent / booking centre and official port agent for Grimaldi Lines in Ancona, in the Marche region.
At our central office it is possible to buy ferry tickets for all the routes and destinations operated by Grimaldi Lines: Greece, Sardinia, Sicily, Spain, Tunisia and Morocco as well as all the domestic lines covered by Minoan Lines Company (Grimaldi Lines Group).
The port office deals with the check-in and booking of trucks and cargo vehicles for the ferry lines to Greece: Ancona - Igoumenitsa, Ancona - Patras and Ancona - Corfu.
If you are looking for a Grimaldi Lines office in Ancona you can find it at the following addresses:
Grimaldi Lines Ancona | Central office and booking center
Address: Lungomare Vanvitelli, 18 - 60121 - Ancona (Italy)
Phone: +39 071 201708
Fax: +39 071 201933
E-mail: This email address is being protected from spambots. You need JavaScript enabled to view it.
Grimaldi Lines Ancona | Port office and check-in desk
Address: Via Einaudi, snc - Ancona porto
Phone: +39 071 56789
Fax: +39 071 200207
E-mail: This email address is being protected from spambots. You need JavaScript enabled to view it.
How to make a Grimaldi Lines reservation
To book Grimaldi Lines ferries you can contact the call centre on 071 201708, alternatively it is available our online booking system to buy tickets autonomously.