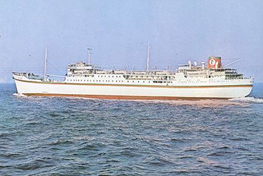 The origins of the Company
• 1972 - Minoan Lines was established in Crete with the formula of popular shareholding
• 1974 - The first ship, Minos, was bought to connect Piraeus to Heraklion
• 1975 - The second ship, Ariadne, was bought to connecting daily Piraeus - Heraklion
• 1978 - With the third ship, named Knossos, the Company started the Piraeus - Chania line

A new adventure: ferries from Italy to Greece
• 1981 - By purchasing the ship "El Greco" Minoan Lines started the international line Ancona - Corfu - Igoumenitsa - Patras.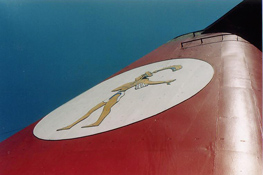 • 1984/86 - After asserting itself on the market, Minoan Lines began to renew its fleet: the ferry "Festos" replaced the ferry "Minos" on the line Piraeus - Heraklion, while with FB "Agia Galini" was enhanced the transport of goods to Crete Island
• 1987 - FB "Fedra" was purchased to be used as second ferry on the line Ancona - Greece.
• 1988 - Another ship, the FB "King Minos", was bought to improve the Italy - Greece Lines, allowing the Company to have 5 departures per week and imposing the leadership on the market!
A fast growing Company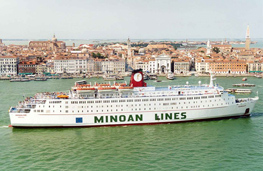 • 1989 - Inauguration of the summer line Ancona - Greece - Turkey operated by the ferry "Ariadne" (Corfu - Cephalonia - Piraeus - Paros - Samos - Kusadasi)
• 1991 - The fleet renewal process continued with the purchase of the modern ferry "Daedalus" in place of "El Greco" on the Ancona - Greece line.
• 1992 - The Company purchased the ferry boat "Erotokritos" to start new direct line to connect Ancona to Patras in only 24 hours! FB Erotokritos at that time was a very spacious ship compared to the others, both in terms of passengers and trucks transported.
• 1993 - A new plan of investment and restructuring was started to revise completely the lines and the fleet by building new and modern ships.
Market Leader in ferries to Greece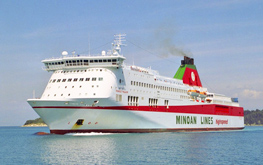 • 1994 - Minoan Lines inaugurated the new headquarters in Heraklion
• 1995/96 - The new line Venice - Corfu - Igoumenitsa - Patrasso was started.
• 1995 - FB "Aretousa" entered the fleet. It was the first ferry built for Minoan Lines, with very high standards and speed. Ancona to Patras was covered in only 22 hours
• 1997 - The Venice line became daily
• 1998 - The new and beautiful sister ships "Ikarus" and "Pasiphae" entered the fleet becoming the flagships of the Company, and for the first time showing the brand "Highspeed".
The present: Minoan Lines Grimaldi Group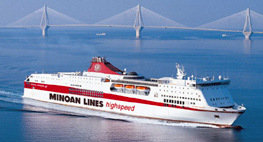 • 1999 - It took place a further plan for renewing the fleet. The new ferries "Knossos Palace" and "Festos Palace" were bought. They are operating on the Piraeus - Heraklion line since 2001.
• 2002/2003 - the modern and beautiful sister ships "Olympia Palace" and "Europa Palace", were bought.
• 2009 - Minoan Lines Company was taken over by Grimaldi Lines who revised the lines and the fleet. Two years later the huge and wonderful flagship sisters "Cruise Europa" and "Cruise Olympia" entered the Ancona - Igoumenitsa - Patras line.
• 2012 - The bi-weekly line Trieste - Igoumenitsa - Patras is started.
• 2017 - The line Trieste - Greece becomes Venice - Igoumenitsa - Patras (via Ancona) operated twice a week.
At present Minoan Lines is the leading Company in the ferry connections from Italy to Greece with daily departures from Ancona to Greece (Ancona - Igoumenitsa - Patras) and Venice to Greece (Venice Fusina - Igoumenitsa - Patras)