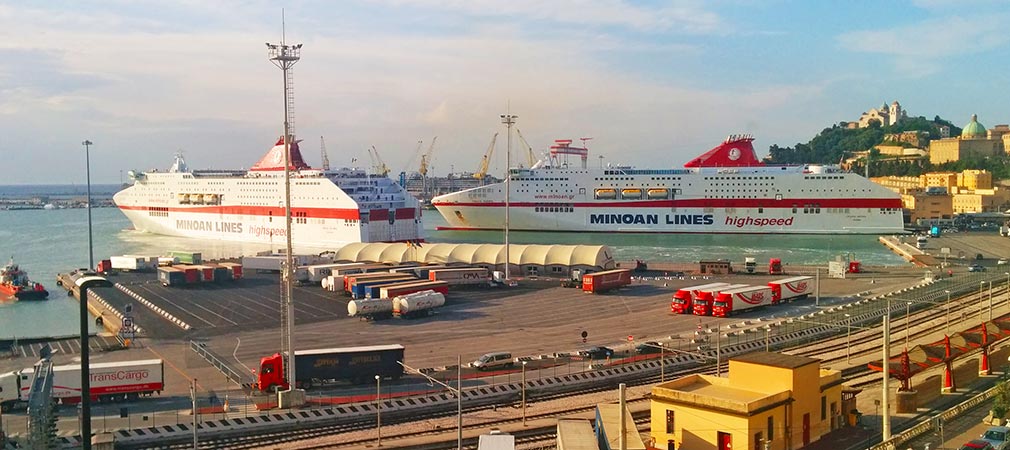 Check-in and boarding Grimaldi Lines Minoan Lines
Presentation time
Check-in times for Minoan Lines and Grimaldi Lines ferries vary depending on the port of departure and destination.
- For ferry routes to Greece , Sardinia, Sicily and Spain presentation at check-in at least 2 hours before departure.
- For ferry connections to Tunisia and Morocco, presentation at check-in at least 3 hours before departure with or without an accompanying vehicle is required.
- For passengers travelling to Tangier in Morocco with an accompanying van, presentation is required 6 hours before departure.
Passengers who show up after the indicated times and in any case after the boarding operations have been completed, will lose the right to board even if they have a regular reservation.
During high season it is advisable to take into account any queues and to arrive at the check-in well in advance.
Check-in procedures
Grimaldi Lines and Minoan Lines check-in procedures vary according to the port of departure and destination:
- Directly alongside with the "fast check-in" procedure for the Livorno - Olbia, Civitavecchia - Olbia, Civitavecchia - Porto Torres, Livorno - Palermo, Napoli - Cagliari, Palermo - Cagliari, Porto Torres - Barcelona and relative return routes.
- At the Grimaldi Lines / Minoan Lines desk located inside the Maritime Station or Passenger Terminal for all other lines.
It will be necessary to show valid identity documents, otherwise boarding will be refused without any right to reimbursement.
Embarkation of vehicles
Once you have checked in, you will be able to proceed with boarding according to the instructions given by the ship's captain.
The driver of the vehicle must park in the ship's garage indicated by the personnel. Passengers without a car and accompanying persons must board the ship from the pedestrian entrance, without access to the garage.
During navigation, access to the garages is not allowed for safety reasons, so passengers must bring everything necessary for the journey once the vehicle has been parked.
Owners of LPG vehicles must notify the seafarers during boarding. Their vehicle will be parked in specific areas of the ship.
Picking up cabin keys
With fast check-in: cabin keys must be collected directly on board at reception or at the totems.
Without fast check-in: the procedure varies depending on the ship. Cabin keys can be collected on board by requesting them from reception, or you can use the boarding pass collected at check-in as an electronic key.
Disembarkation from the ship
When disembarking it is necessary to carefully follow the on-board announcements. The cabins must be left when notified by the announcements and until disembarkation and access to the garages is authorised, passengers must wait in the common areas to avoid unnecessary gatherings.