Ferries to Greece
Discover the offers and book ferry tickets to Greece at the best rates
Greece has always been one of the most popular destinations where tourists from all over Europe come every year to spend their holidays. Every year millions of people depart by ferry from Italy to Greece and many choose the numerous ferry connections offered by Grimaldi Lines and Minoan Lines. With Grimaldi Lines and Minoan Lines it is in fact possible to leave by ferry to Greece from the ports of Ancona and Brindisi to reach the ports of Igoumenitsa, Patras and Corfu.
Map of maritime connections to Greece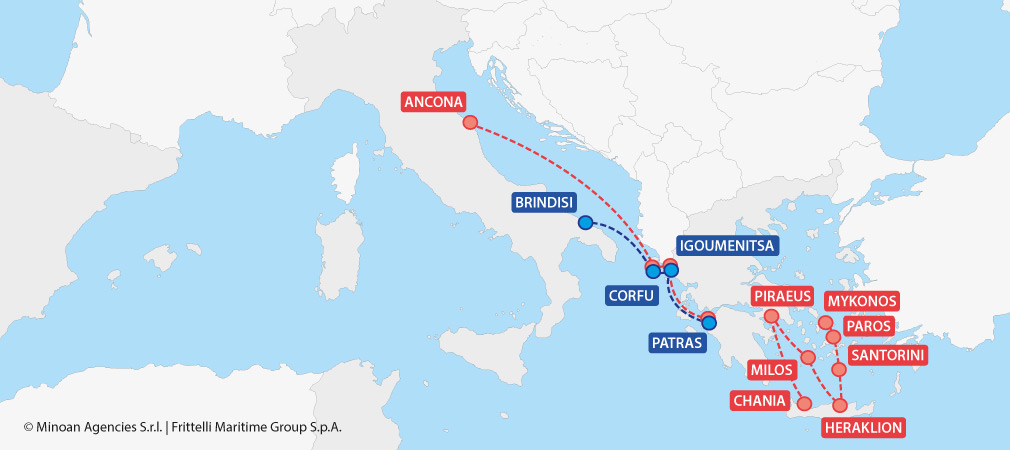 Minoan Lines and Grimaldi Lines ferry routes from/to Greece
Ancona - Igoumenitsa
Ancona - Patras
Ancona - Corfu
Brindisi - Igoumenitsa
Brindisi - Patras
Brindisi - Corfu
Corfu - Ancona
Corfu - Brindisi
Igoumenitsa - Ancona
Igoumenitsa - Brindisi
Patras - Ancona
Patras - Brindisi
Choose the route to Greece you are interested in to find out the timetables and offers.
How to book your ferry ticket to Greece
Go to the online booking system where you can make your reservation and print your ticket, or contact our call center at number +39 071 201708. Our staff will be pleased to help you with the best available rates.