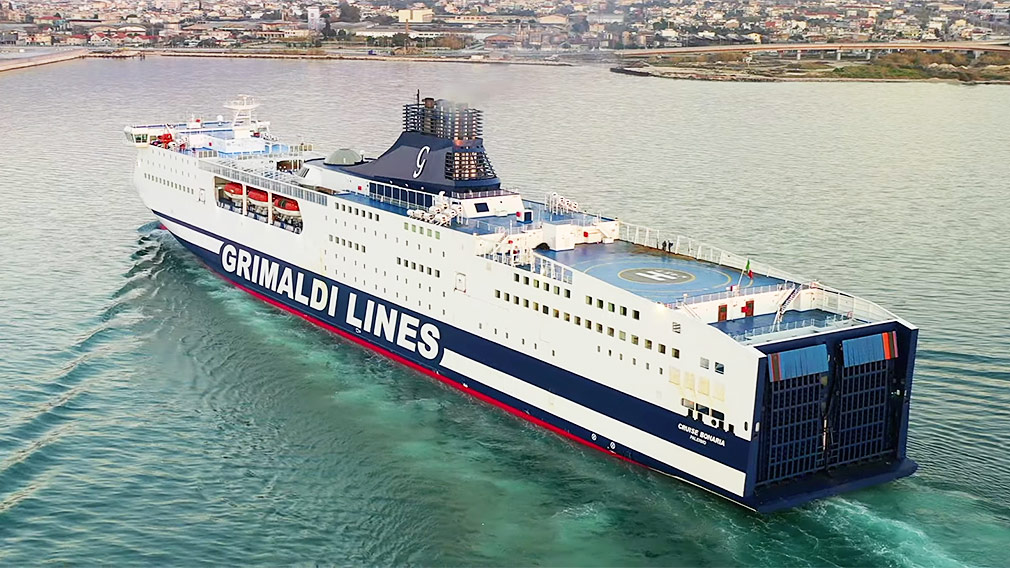 Cruise Bonaria
Cruise Bonaria is an elegant new generation ship that is part of the Grimaldi Lines fleet. This splendid ferry is characterized by a high speed navigation and accommodates its passengers in an elegant and well-kept environment that makes the journey comfortable and relaxing. Among the main services offered are the a-la-carte restaurant, self-service, outdoor swimming pool, boutiques and more. Below are the technical characteristics, on-board services and photographs of the interiors of the Cruise Bonaria.
Data sheet
| | |
| --- | --- |
| Year of construction | 2000 |
| Length | 214 meters |
| Width | 26 meters |
| Gross tonnage | 37.482 tons |
| Service speed | 29 knots |
| Passengers | 2.500 |
| Cabins | 231 |
| Seats | 742 |
Accommodations
Inside / outside cabins: spacious cabins with or without portholes, two lower and two upper beds accessible with a ladder. The cabins have a bathroom with shower, telephone and electrical plugs.
Deluxe cabins: very spacious cabins with portholes that can comfortably accommodate 2 people. They are equipped with a double bed, a sitting area, TV, mini fridge, bathroom with shower and hairdryer, desk with mirror, electric plugs.
Disabled cabins: cabins with more space to accommodate passengers with reduced mobility.
Business seats: recliners with a comfortable and spacious seat, located in a room with a limited number of places.
Standard seats: partially reclining seats, located in one or more rooms with a larger number of places.
Restaurants and bars
Knossos Palace has a cosy a-la-carte restaurant as well as a well-stocked self-service restaurant. There are also two cafés on the inner deck and a pool snack bar on the outer deck.
Pets on board
Animals are welcome on board Grimaldi Minoan Lines ships. Dogs and other four-legged friends can be accommodated in the dedicated outdoor area or in any type of cabin by purchasing the pet kit. Pets are not allowed in the common areas and lounges, but they are allowed on the external decks, where they can walk together with their owners. For more information please visit the pets on board section.
On board services
Swimming pool, boutique and mini market, bar and lounges, a-la-carte restaurant, self-service restaurant, fast food, slot machine room, children's play area, special cabins for the disabled, PET cabins, disco, wi-fi with satellite internet (for a fee), roaming service, cinema, kennels.
Photo Gallery Cruise Bonaria