Ferries Brindisi Corfu Brindisi
Book ferries to Greece, on the line Brindisi – Corfu of Grimaldi Lines.
Take a ferry to Greece with Grimaldi Lines. With a short crossing of a few hours you can reach the port of Corfu leaving from the Port of Brindisi and take your vehicle with you.
The island of Corfu is famous for its beautiful beaches, but also for its old town, a UNESCO World Heritage Site which is visited by millions of travellers from all over the world every year. Corfu is also very popular with young people for its wild nightlife, one of the most popular in Greece.
Get your ticket quotation online now for your boat trip from Brindisi to Corfu. You'll find unmissable offers and fares.
Maritime connections Brindisi - Corfu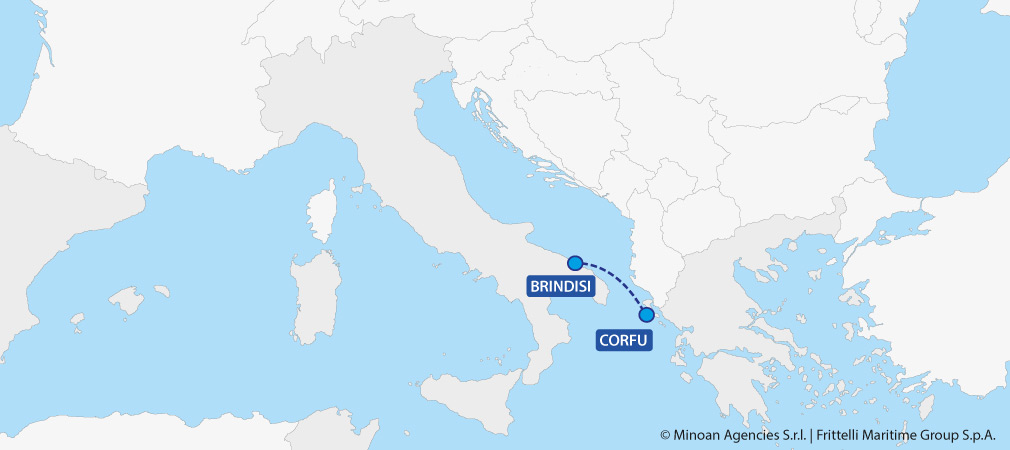 Timetable ferries Brindisi - Corfu
Summer schedule
BRINDISI

CORFU

Departure

Arrival

Saturday

13:00

Saturday

20:30

Sunday

13:00

Sunday

20:30
Timetable ferries Corfu - Brindisi
Summer schedule
CORFU

BRINDISI

Departure

Arrival

Sunday

01:30

Saturday

09:30

Monday

01:30

Tuesday

09:30
The duration of the trip may vary depending on weather and sea conditions.
The ferry line Brindisi - Corfu - Brindisi operates in the Summer schedule with 2 departures per week.
Ships operating on the line Brindisi - Corfu
Euroferry Olympia

How to book your ferry ticket Brindisi - Corfu
Go to the online booking system where you can make your reservation and print your ticket, or contact our call center at number +39 071 201708. Our staff will be pleased to help you with the best available rates.