Ferries Palermo Cagliari Palermo
Book ferries from Sicily to Sardinia, on the route Palermo - Cagliari Grimaldi Lines.
If you are looking for a ferry connection from Cagliari to Palermo or from the port of Palermo to the port of Cagliari, you are in the right place!
Discover the new Grimaldi Lines route that connects Sardinia to Sicily and vice versa. Travel in comfort with this night-time ferry connection that links the Sardinian capital to the Sicilian capital once a week. Leave with your car, motorbike or accompanying vehicle and choose your preferred accommodation: deck, armchair or a comfortable cabin. On board, you don't have to think about anything except relaxing: enjoy the many comforts of the shop, bars and self-service restaurant.
Sardinia and Sicily have never been so close and now you can combine your holiday in both destinations!
Calculate an estimate now using the online booking system, or contact us on +39 071 201708 for a free telephone consultation.
Maritime connections Palermo - Cagliari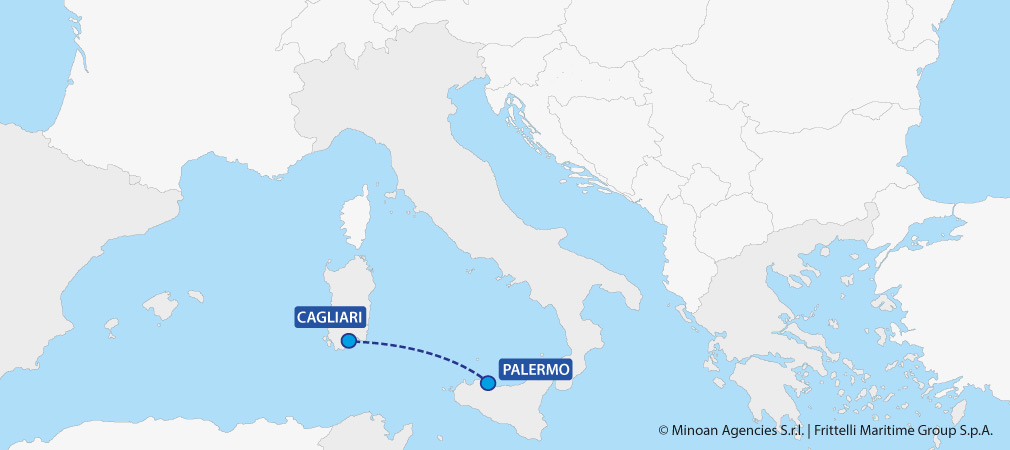 Timetable ferries Palermo - Cagliari
From 01/01/2023 to 31/12/2023
PALERMO

CAGLIARI

Departure

Arrival

Sunday

09:00

Sunday

20:00
Timetable ferries Cagliari - Palermo
From 01/01/2023 to 31/12/2023
CAGLIARI

PALERMO

Departure

Arrival

Saturday

19:00

Sunday

06:00

The duration of the trip may vary depending on weather and sea conditions.
The ferry line Cagliari - Palermo - Cagliari is operational all year round with 1 departures per week.
Ships operating on the line Palermo - Cagliari
How to book your ferry ticket Palermo - Cagliari
Go to the online booking system where you can make your reservation and print your ticket, or contact our call center at number +39 071 201708. Our staff will be pleased to help you with the best available rates.