Ferries to Tunisia
Discover the offers and book ferry tickets to Tunisia at the best rates
Travel with Grimaldi Lines to easily reach Tunisia with your vehicle. You can choose to depart by ferry from the ports of Civitavecchia, Salerno and Palermo connected with multi-weekly departures to the port of Tunis.
Tunisia is the northernmost country in Africa and every year is visited by millions of tourists for its white beaches bathed by a turquoise sea, for the possibility to make interesting excursions in the desert, for the colorful traditional markets, but also for the many historical and cultural attractions scattered around the country.
Choose the route best suited to your needs to reach Tunisia by boat Grimaldi Lines and make an online quotation at the best rates.
Map of maritime connections to Tunisia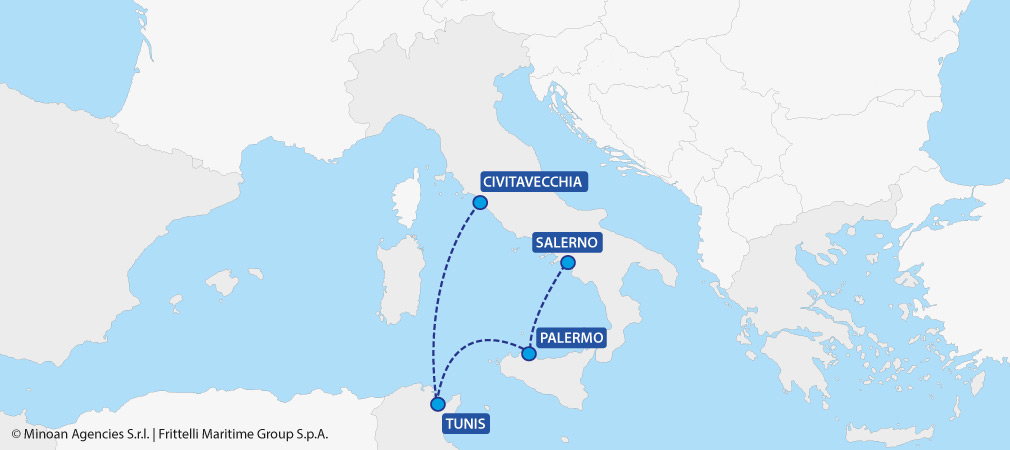 Grimaldi Lines ferry routes from/to Tunisia
Civitavecchia - Tunis
Palermo - Tunis
Salerno - Tunis
Tunis - Civitavecchia
Tunis - Salerno
Tunis - Palermo
Choose the route to Tunisia you are interested in to find out the timetables and offers.
How to book your ferry ticket to Tunisia
Go to the online booking system where you can make your reservation and print your ticket, or contact our call center at number +39 071 201708. Our staff will be pleased to help you with the best available rates.