Ferries Civitavecchia Arbatax Civitavecchia
Book ferries to Sardinia, on the route Civitavecchia - Arbatax Grimaldi Lines.
Travel by ship from central Italy to eastern Sardinia with Grimaldi Lines ferries. With the new Civitavecchia - Arbatax ferry line you can reach your favourite holiday destination in Sardinia in just a few hours. Get on board with your vehicle and, once you have arrived at your destination, you will discover one of the most uncontaminated and wild areas of the island: Ogliastra, a real jewel in the province of Nuoro.
You will be welcomed by a beautiful and unspoilt region that has much to offer to those who love the sea but also to those who love nature, mountains and walking. The most authentic Sardinia is waiting for you when you travel with Grimaldi Lines.
Request a quotation now by contacting us on +39 071 201708, or calculate the best available rate by yourself by visiting the online booking system.
Maritime connections Civitavecchia - Arbatax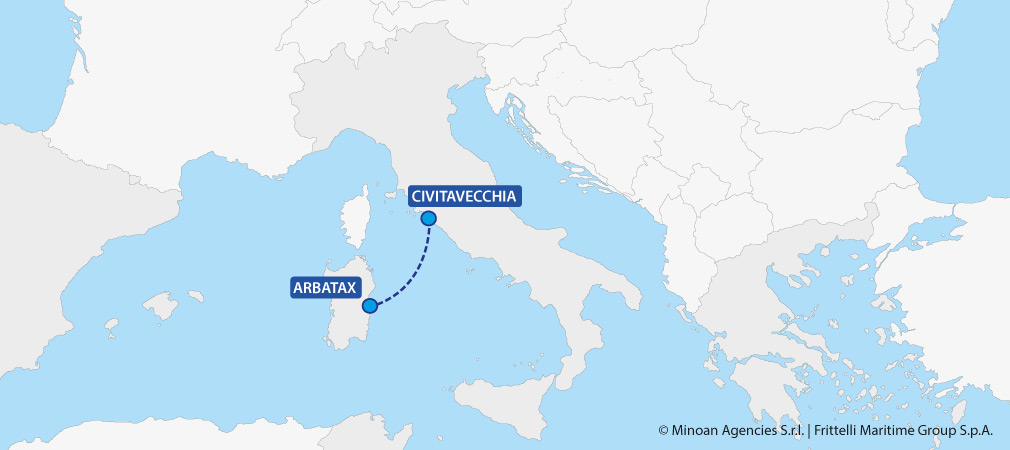 Timetable ferries Civitavecchia - Arbatax
All year round
CIVITAVECCHIA

ARBATAX

Departure

Arrival

Tuesday

20:00

Wednesday

05:00

Saturday

20:00

Sunday

05:00
---
Timetable ferries Arbatax - Civitavecchia
All year round
ARBATAX

CIVITAVECCHIA

Departure

Arrival

Tuesday

02:00

Tuesday

11:00

Thursday

02:00

Thursday

11:00

The duration of the trip may vary depending on weather and sea conditions.
The ferry line Civitavecchia - Arbatax - Civitavecchia is operational all year round with 3 departures per week.
Ships operating on the line Civitavecchia - Arbatax
How to book your ferry ticket Civitavecchia - Arbatax
Go to the online booking system where you can make your reservation and print your ticket, or contact our call center at number +39 071 201708. Our staff will be pleased to help you with the best available rates.