Ferries to Sardinia
Discover the offers and book ferry tickets to Sardinia at the best rates
Sardinia is one of the favorite destinations for travellers who want to spend their holidays in a lovely place. Every year, in fact, this island is stormed by many tourists who leave from the mainland to reach Sardinia by ferry.
Reaching Sardinia by boat with your car is in fact the best way to discover this land that offers visitors thousands of magnificent beaches, beautiful cities of art in addition to many tourist attractions.
Grimaldi Lines ferries to Sardinia offer ship connections from the ports of Livorno, Civitavecchia, Naples, Palermo to the most important ports on the Sardinian island: Olbia, Porto Torres, Cagliari and Arbatax.

Map of maritime connections to Sardinia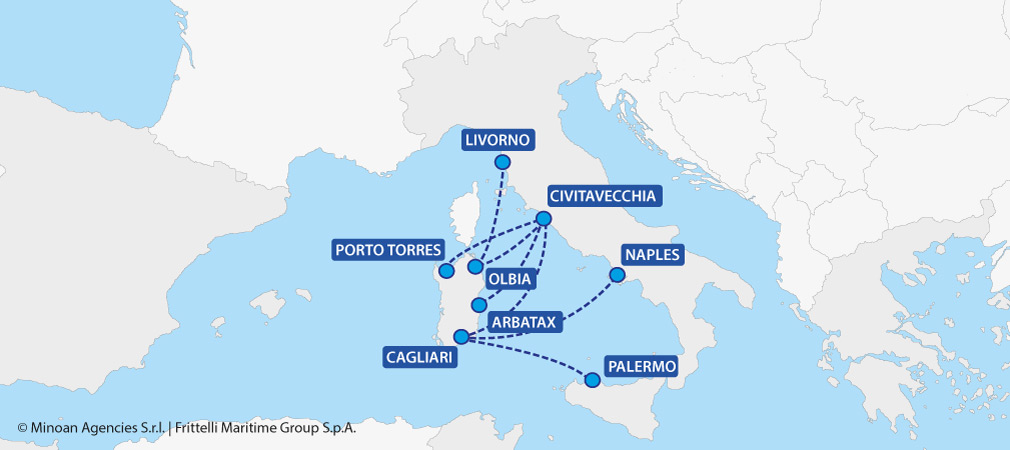 Grimaldi Lines ferry routes from/to Sardinia
Civitavecchia - Olbia
Olbia - Civitavecchia
Civitavecchia - Porto Torres
Porto Torres - Civitavecchia
Civitavecchia - Cagliari
Cagliari - Civitavecchia
Civitavecchia - Arbatax
Arbatax - Civitavecchia
Livorno - Olbia
Olbia - Livorno
Napoli - Cagliari
Cagliari - Napoli
Palermo - Cagliari
Cagliari - Palermo

Choose the route to Sardinia you are interested in to find out the timetables and offers.
How to book your ferry ticket to Sardinia
Go to the online booking system where you can make your reservation and print your ticket, or contact our call center at number +39 071 201708. Our staff will be pleased to help you with the best available rates.