Ferries Civitavecchia Tunis
Book ferries to Tunisia, on the line Civitavecchia – Tunis of Grimaldi Lines.
Leave by ferry to Tunisia with Grimaldi Lines. You will be able to reach the port of Tunis, the capital city of the North African country, with a fast and relaxing journey.
Tunisia will welcome you with its cities rich in monuments and history, with the charm of the Sahara desert that occupies 40% of the territory, with the beautiful white beaches of the coast that contrast with the turquoise sea.
Leave by boat from Civitavecchia to Tunis and easily reach your holiday destination.
Calculate now an online quotation for you ferry ticket to Tunisia. Special offers and rates await you.
Maritime connections Civitavecchia - Tunis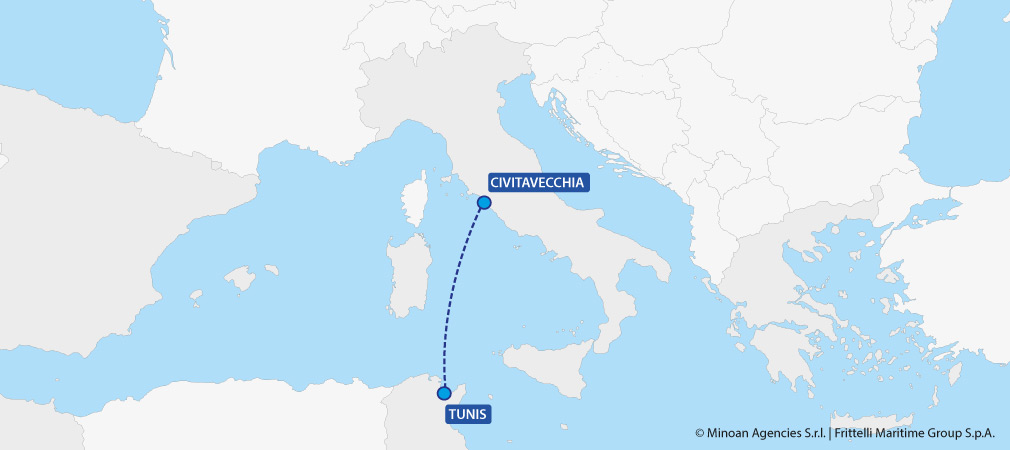 Timetable ferries Civitavecchia - Tunis
All year round
CIVITAVECCHIA

TUNIS

Departure

Travel time

Wednesday

18:00

18 hours
Timetable ferries Tunis - Civitavecchia
All year round
TUNIS

CIVITAVECCHIA

Departure

Travel time

Tuesday

19:30

18 hours
The duration of the trip may vary depending on weather and sea conditions.
The Civitavecchia - Tunis - Civitavecchia ferry line operates all year round with 1 weekly departure.
Ships operating on the line Livorno - Olbia
How to book your ferry ticket Civitavecchia - Tunis
Go to the online booking system where you can make your reservation and print your ticket, or contact our call center at number +39 071 201708. Our staff will be pleased to help you with the best available rates.