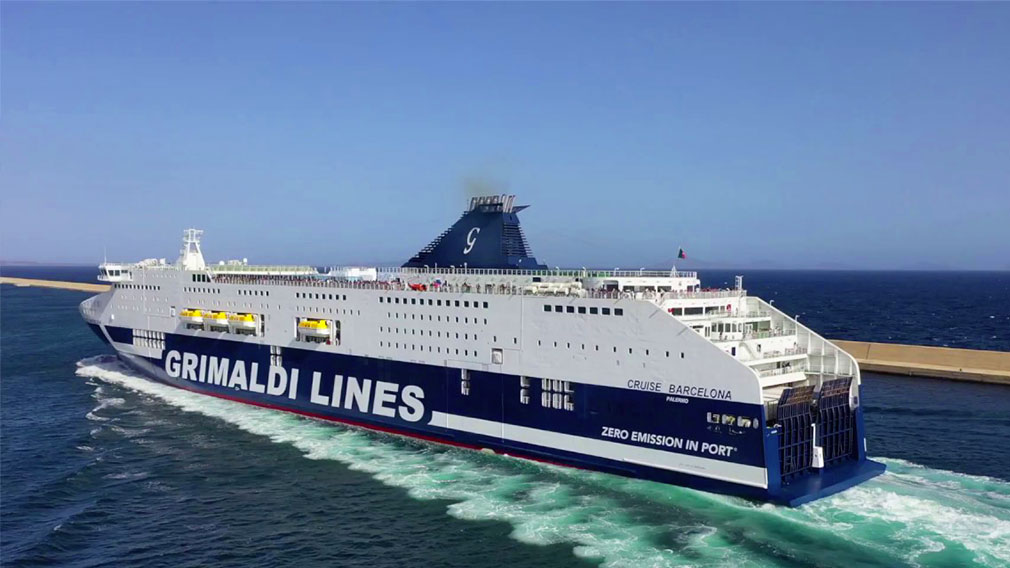 Cruise Barcellona
The Cruise Barcelona is the flagship of the Grimaldi Lines Company together with her sister Cruise Roma. This splendid cruise class ferry is one of the largest in Europe and offers its passengers on-board services with cruise ship standards that make a pleasant and relaxing stay on board. Spend pleasant hours in the casino, wellness centre, gym and swimming pool. On this page you will find the technical features, on-board services and photographs of the interior of the Cruise Barcelona.
Data sheet
| | |
| --- | --- |
| Year of construction | 2008 |
| Length | 254 meters |
| Width | 31 meters |
| Gross tonnage | 63.000 tons |
| Service speed | 28 knots |
| Passengers | 3.500 |
| Cabins | 499 |
| Seats | 595 |
Accommodations
Inside / outside cabins: spacious cabins with or without portholes with 2/3/4 beds. They feature two lower beds and 1/2 upper beds accessible by a ladder. The cabins come with a bathroom with shower, wardrobe, desk with mirror, telephone and power sockets.
Junior Suites: very spacious cabins with portholes that can comfortably accommodate up to 5 people. They feature a double bed and 1/3 single beds. The quadruple and quintuple cabins have 1 or 2 raised beds accessible by the ladder. In the cabins there is a bathroom with shower and hairdryer, spacious wardrobe, desk with mirror, satellite TV, power sockets, mini fridge.
Owner Suites: very spacious cabins with portholes that can comfortably accommodate up to 4 people. In addition to the Junior Suite cabins, they have a sitting room and a larger bathroom (some of them equipped with hydromassage shower).
Disabled cabins: inside cabins with more space to accommodate passengers with reduced mobility. They can accommodate up to 3 people.
Standard seats: partially reclining seats, located in one or more rooms.
Restaurants and bars
Cruise Barcelona has 2 self-service restaurants, an a-la-carte restaurant with stunning views of the ship's wake, 2 cafés on the inside deck and one snack bar on the outside deck - offering drinks and quick meals.
Wellness center
Cruise Barcelona has a wonderful wellness centre with services and comforts suitable for a fun and relaxing cruise. In the wellness centre you will find a sauna, steam bath and jacuzzi. In addition, the staff will offer passengers beauty treatments, lamps, sun shower, beauty products. For fitness lovers there is also a large fully equipped Tecnogym gym.
Pets on board
Animals are welcome on board Grimaldi Minoan Lines ships. Dogs and other four-legged friends can be accommodated in the dedicated outdoor area or in any type of cabin by purchasing the pet kit. Pets are not allowed in the common areas and lounges, but they are allowed on the external decks, where they can walk together with their owners. For more information please visit the pets on board section.
On board services
Swimming pool, gym, wellness center with sauna and massages, boutique and mini market, bar and lounges, a-la-carte restaurant, self-service restaurant, fast food, smoking area, conference room with 300 seats, children's play area, disabled cabins, PET cabins, kennels, games room, casino, disco, wi-fi with satellite internet (extra charge), roaming service.
Photo Gallery Cruise Barcelona