Ferries Palermo Tunis
Book ferries to Tunisia, on the line Palermo – Tunis of Grimaldi Lines.
Travel by ferry to Tunisia with Grimaldi Lines on the line that connects twice a week the port of Palermo with the port of Tunis. You can board your vehicle and travel in comfort and relaxation to reach your holiday destination.
Tunisia is a country rich in history and culture, with enchanting cities, traditional markets full of colors, the Sahara desert, white beaches bathed by a turquoise sea.
Leave by ship from Palermo to Tunis and easily reach the northernmost country in Africa.
Calculate your own online quotation for Tunisia. You will find the best offers and rates.
Maritime connections Palermo - Tunis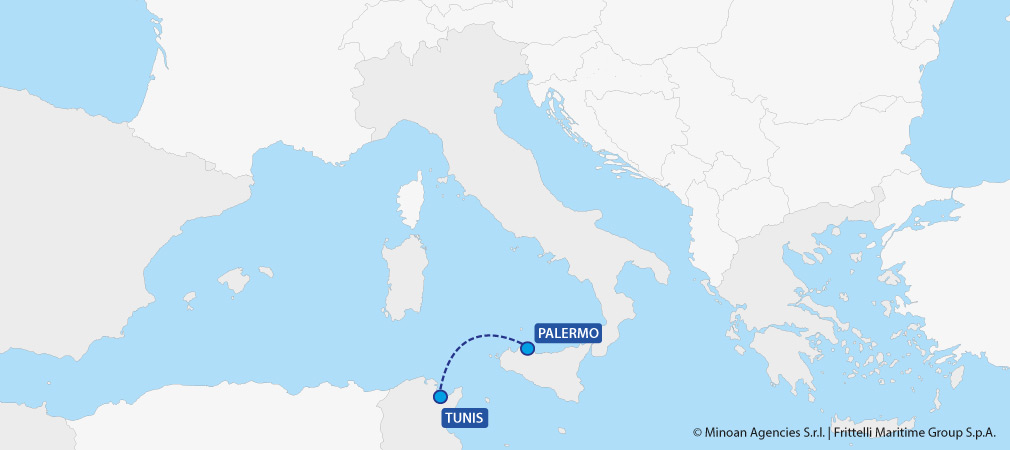 Timetable ferries Palermo - Tunis
All year round
PALERMO

TUNIS

Departure

Arrival

Tuesday

02:00

Tuesday

14:30

Saturday

12:30

Saturday

22:30
Timetable ferries Tunis - Palermo
All year round
TUNIS

PALERMO

Departure

Arrival

Wednesday

18:30

Thursday

07:00

Sunday

03:00

Sunday

15:30
The duration of the trip may vary depending on weather and sea conditions.
The ferry line Palermo - Tunis - Palermo is operational all year round with 2 departures per week.
Ships operating on the line Palermo - Tunis
Catania

How to book your ferry ticket Palermo - Tunis
Go to the online booking system where you can make your reservation and print your ticket, or contact our call center at number +39 071 201708. Our staff will be pleased to help you with the best available rates.