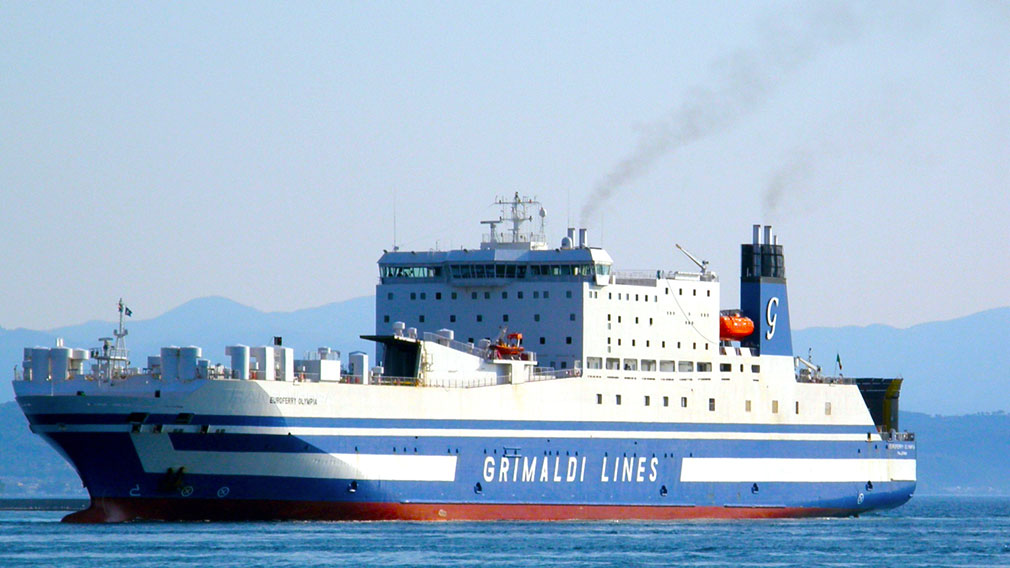 Euroferry Olympia
The Euroferry Olympia is a ferry with a large vehicle loading capacity. It is equipped with the essential services for a comfortable crossing. Among the main facilities are the self-service restaurant, the shop and the slot room. Below are the technical characteristics, on-board services and photographs of the interior of Euroferry Olympia.
Data sheet
| | |
| --- | --- |
| Year of constructions | 1995 |
| Length | 183 meters |
| Width | 28 meters |
| Gross tonnage | 32.534 tons |
| Service speed | 21 knots |
| Passengers | 570 |
| Cabins | 34 |
| Seats | 409 |
Accommodations
Inside / outside cabins: spacious cabins with or without portholes, two lower and two upper beds accessible with a ladder. The cabins have a bathroom with shower, a desk with mirror, telephone and electrical plugs.
Superior cabins: very spacious cabins with portholes that can comfortably accommodate up to 4 people. They are equipped with double bed, living room, TV, mini fridge, bathroom with shower and hairdryer, desk with mirror, electric sockets.
Pet cabins: inside and outside cabins reserved for passengers with animals (maximum 2 animals per cabin). They have the same equipment as the standard cabins as well as a sanitizing mat and specific linen.
Disabled cabins: outside cabins with more space to accommodate passengers with reduced mobility. They can accommodate up to 4 people.
Restaurants and bars
Euroferry Olympia has a self-service restaurant offering a good choice of dishes. There are also cafeterias where you can enjoy drinks and snacks.
Pets on board
Animals are welcome on board Grimaldi Minoan Lines ships. Dogs and other four-legged friends can be accommodated in the dedicated outdoor area, in special PET cabins or in other types of cabins by purchasing the Welcome Dog Bag kit where applicable. Pets are not allowed in the common areas and lounges, but they are allowed on the external decks, where they can walk together with their owners. For more information please visit the pets on board section.
On board services
Shop, bar and lounges, self-service restaurant, children's play area, special cabins for the disabled, PET cabins, kennels.
Photo Gallery Euroferry Olympia