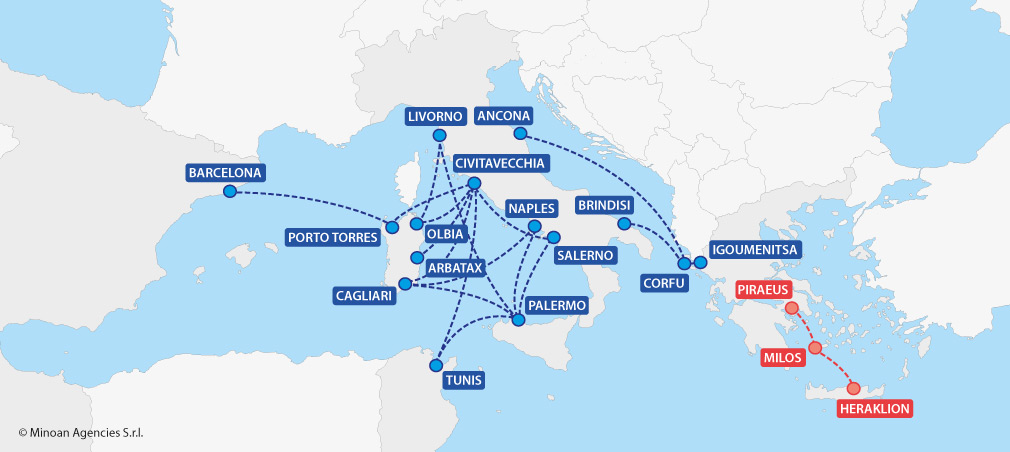 Grimaldi Lines ferries
Grimaldi Lines is an important Italian shipping company founded in 1947. With its splendid ships it connects Italy with the main Mediterranean ports in Greece, Sardinia, Sicily, Spain, Tunisia, Morocco and Malta with daily departures. Minoan Agencies, as official agent, is available with its booking center to sell Grimaldi Lines ferries and to help you buy your tickets with the best assistance.
The Fleet
Grimaldi Lines has a modern and reliable fleet, the largest in the Mediterranean, with new generation ferries that are safe and environmentally friendly. The Company is particularly sensitive to the environment, which is why it has equipped its ferries with the "scrubbers", huge catalysts that reduce pollutants in the air to a minimum. These splendid boats are equipped with elegant cabins and all the comforts to spend a relaxing and enjoyable crossing. Visit the special section to discover all the specifications, services and images of Grimaldi Lines ships and ferries.
Destinations
By clicking on the map or visiting the page at the following link you can find all the routes and links to the various destinations, alternatively you will find a detailed list of all the routes below. In each section you will find the timetables of Grimaldi Lines ferries, the ships operating on the route, the fares and many other useful information.
Special offers
The company offers a series of offers and discounts valid all year round. In addition, new promotions are often offered for a limited period of time. To find out more visit the offers page, follow us on social channels or contact us at the Grimaldi Lines booking centre.
How to book
Booking your ticket is simple, just access the online booking system where you can get your own quote at the best prices at the moment. Alternatively, you can contact the booking centre in Ancona by calling +39 071 201708, or by sending an email to This email address is being protected from spambots. You need JavaScript enabled to view it..
Ancona - Igoumenitsa
Ancona - Patras
Ancona - Corfu
Brindisi - Igoumenitsa
Brindisi - Patras
Brindisi - Corfu
Venice - Igoumenitsa
Venice - Patras
Civitavecchia - Barcelona
Savona - Barcelona
Porto Torres - Barcelona
Civitavecchia - Porto Torres
Civitavecchia - Olbia
Livorno - Olbia
Livorno - Palermo
Salerno - Palermo
Salerno - Catania
Civitavecchia - Tunis
Salerno - Tunis
Palermo - Tunis
Barcelona - Tangier
Savona - Tangier